Lister now: Stop Child Abuse Now (SCAN) – 1878 05/16 by NAASCA ORG | Self Help (blogtalkradio.com)
Tonight's special guest is Asha Lightbearer from Atlanta, Georgia, a child abuse survivor and a singer / songwriter who is the music director for One World Spiritual Center. She also runs 'The Fiona Project,' a non-profit music movement dedicated to child sexual abuse prevention and survivor support. Through music videos and concert series the project goal is to raise $1 million dollars for child sexual abuse prevention and healing. Using the concert events and the hashtag #UndoTheTaboo, the Fiona Project educates communities and raises support for programs and services provided to survivors through their charity partners. Asha's homage song and music video to CSA survivors '(Welcome Home) Fiona' was featured in NAASCA's April Newsletter and was the recipient of the People's Choice video of the 2018 Posi-Music Awards.  Ahsa's also has an exciting new piece of the Fiona Project, the Survivor Speak Website, which invites CSA survivors to submit their art, music, and poetry to share healing through the creative process.  Today in addition to pursuing her musical career, Asha is in a loving and supportive relationship and enjoys watching her son perform in motocross racing.  Please join us for what is sure to be an inspiring and encouraging night on the show!
Source: This show aired on May 16, 2018 on blogtalkradio.com
About NAASCA and the SCAN radio show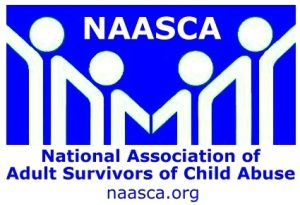 If you're a Child Sexual Abuse survivor or a CSA prevention or healing advocate, the National Association of Adult Survivors of Child Abuse (NAASCA) provides some exceptional resources that we recommend.
Although NAASCA serves adult survivors of all forms of child abuse, sexual abuse is one of their niches and they offer an array of resources for survivors, including:
a weekly BlogTalkRadio show (SCAN – Stop Child Abuse Now) that airs several days per week with survivors, shakers and movers in the prevention and healing world, a panel of experts who participate on calls and the ability to call in live and ask questions or share comments about the days topic, plus
a monthly newsletter that is packed with calendar highlights, resources and other helpful tips and information for both prevention and survivors.
The amount of work these folks do every month to keep their mission alive is remarkable. Thank you, Bill Murray and NAASCA, for all you do to help child abuse survivors. You are a gift!
And thank you for feature The Fiona Project in your April issue of your Newsletter! It is truly an honor to be recognized by such a landmark organization as your own. We look forward to working with you now and for years to come. Thank you, again!
The Fiona Project in the spotlight
Below is the clip about The Fiona Project from NAASCA's April 2018 newsletter.
To receive their articles, news and other items of interest for child (sexual) abuse survivors and advocates delivered straight to your inbox every month, subscribe to their newsletter.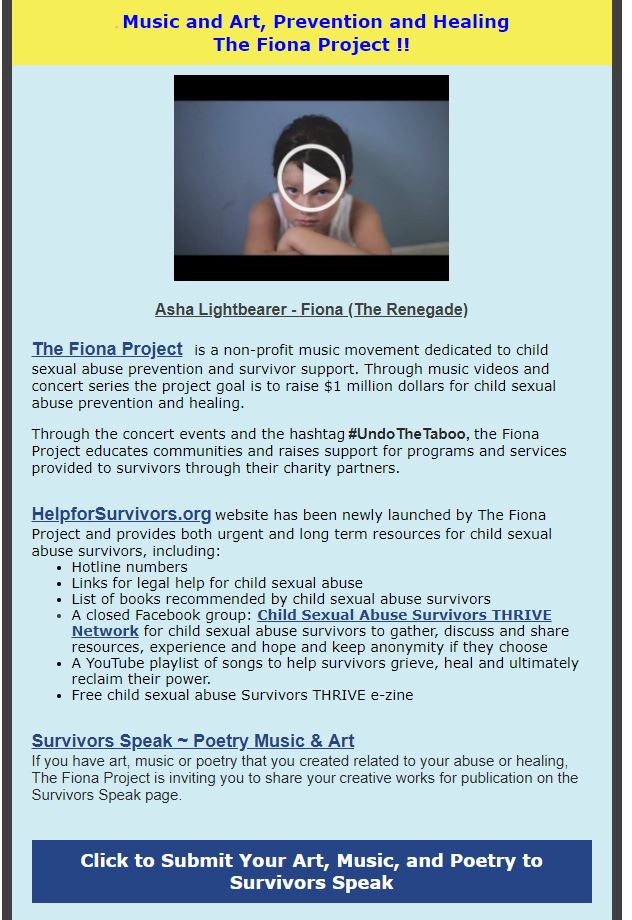 Click here to read the full newsletter.