What If I Suspect a Child Is Being Abused?
What qualifies as child sexual abuse?
Any contact (or attempt at contact) of a sexual nature with a child qualifies as child sexual abuse, including but not limited to: grooming, voyeurism, online predation, solicitation of a minor for nude photographs or sexual acts.
What kinds of abuse should be reported?
All suspected forms of child sexual abuse should be reported. Even if the abuser is underage, it is still important to report so that both children can get help. Often abusers have been abused themselves.
How Do I Report Suspected Abuse?
First, collect whatever information you have about the child being violated and the suspected abuser. Do NOT get involved trying to super-sleuth more information. Just gather the facts you have and make your report.
Report Suspected Abuse by a Family Member

Call the Childhelp USA National Child Abuse Hotline. They will provide you the phone number for your local Child Protective Services division (DFCS) where you can report whatever information you have about the suspected abuse.
*All reports are anonymous and your name will never be disclosed to the reported abuser.
What Happens to the Child? Won't Reporting Anger Their Abuser?
DFCS is not law enforcement. They are a specialized division that deals with child safety. Upon receiving a report, they will first reach out to non-offending family members and make a preliminary assessment of what is required to protect the child immediately. They will then engage a local Child Advocacy Center with expertise in sexual abuse to help them assess the situation more deeply–in a way that is safe and non-traumatic for the child.
After the CAC has assessed the child, law enforcement or judicial support may be engaged. Involving a Child Advocacy Center also provides an important close-gap that piggy-backs DFCS efforts to make sure the child receives medical and counseling services required for their recovery and healing.
Remember, organizations that deal with child sexual abuse are trained to professionally evaluate and assess your report with special care to keep the child safe from additional harm. Trust these trained professionals to do their job, knowing they are there to protect the child.
Report Suspected Abuse by Someone Outside the Family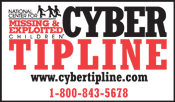 Click the button above to go to the Nation Center for Missing and Exploited Children's Cyber Tipline. Upon completion of your report, the case is immediately processed and routed to the appropriate local authorities and the FBI hotline for child exploitation.
Remember, most abusers have many victims over their lifetime, even if they have no previous criminal record of being a sex offender. So this predator has probably abused other children as well and needs to be stopped!
What happens to the abuser next will depend on whether or not the authorities can validate your report and if so, what the court determines is appropriate during any trial that might occur.
Note:  It will take several minutes to complete your report. If you are not sure about any of the questions, just do your best. Before you are done, the report will ask for your information, the child's information and the abuser's information to the best of your knowledge. It will also provide a place for any additional comments you may have. Make sure to mark that it's OK for them to contact you if they have questions.
Reporting isn't easy, but it's the only right thing to do!
Reporting suspected child sexual abuse can be scary, especially for anyone who has ever had psychological trauma themselves. You may wonder how it will affect the parties involved: the accused, the child and yourself.  But the cost of not reporting is devastating–a child being left to face his or her abuser alone again and an abuser continuing to have access to unlimited children to prey upon.
Most offenders will steal the innocence of dozens of children before they are reported. That's right, not one… dozens… per abuser! So yes, reporting may be uncomfortable; but you may be the only chance this child has for intervention.
Please protect the children in your life. 
*The information provided above is for the United States only.
For help in other areas, please contact your local Child Advocacy Center or law enforcement.
---