Bring the family for a day of summer fun at the farm, including live music, open mic poetry readings, corn hole and kids games, canoeing/kayaking and water games (life vests provided), a swap blanket and drumming circle, plus swing sets and hay bales for the kids.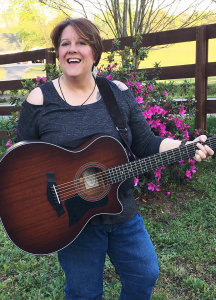 Live Music by local singer/songwriter, Debbie Schrodt (with guest Terry Hamrick)
Memphis-raised, Nashville-honed, and Atlanta-seasoned, Debbie Schrodt has been a singer/songwriter since the age of 17. She has performed her original music in venues ranging from coffeehouses to spiritual centers to Nashville's famous Bluebird Cafe. Whether she's performing for a few or many, Debbie is always sure to charm audiences with her warmth, wit, and honesty. Join us on August 18 as Debbie plays some traditional folk, singer-songwriter and folk-rock tunes for our event.
For more about Debbie, visit: http://www.debbieschrodt.com/
All entertainment will be family-friendly. Bring your camp chairs and a picnic and enjoy the day with us. Pet a horse, feed the ducks, watch a horse demonstration and explore the farm. A good time is sure to be had by all.
Cost: FREE! Non-alcoholic drinks will be available on a donation basis.
ANY DONATIONS OFFERED will be gratefully accepted to support our event, with net proceeds benefiting The Fiona Project, a non-profit music and arts campaign dedicated to child sexual abuse prevention and healing.
95% of child sexual abuse can be prevented through education!
Prevention strategies are quick and easy. Hand-outs will be available to bring home.
Pick-up a copy before you leave.
Invite your friends on Facebook: https://www.facebook.com/events/1758786484207944/
---
About Twelve Stone Farm
Twelve Stone Farm is a horse rescue sanctuary located near the border of Pickens and Gilmer counties in North Georgia. They raise funds for their work through haying the fields, selling local honey from their hives, and offering rustic events such as weddings, boy scouts and girl scouts events, drumming circles and other private and public parties and gatherings.
More about Twelve Stone Farm: https://www.facebook.com/TwelveStoneFarm/

Note from The Fiona Project:
We are thrilled to have the opportunity to bring our message of child safety and CSA prevention to Pickens and Gilmer county families this summer through this special family-oriented Summer Fun Day event at Twelve Stone Farm. All materials will be provided in a discreet, child-friendly way while kids and grown-ups alike have a great day of fun and friends at the farm.
We look forward to seeing you there.
Related Items